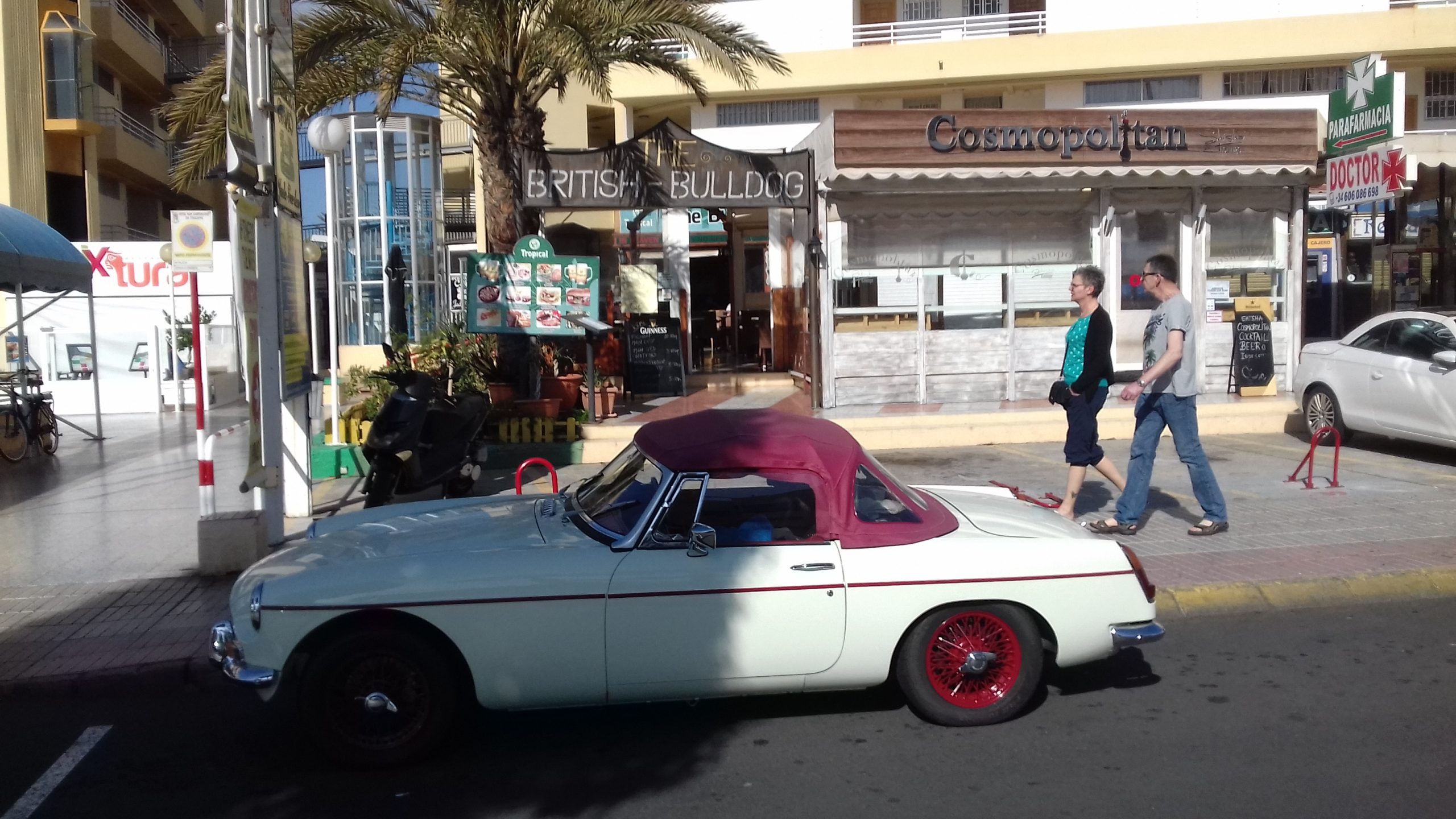 Contrary to popular folklore this is not where I have been for the last six months. Well, not The Bulldog anyway. This is where, every Sunday, I go for a Full English (breakfast) and deal with any e-mails, etc. The Bulldog is in Playa del Inglis, on Gran Canaria, and is just about the only place in Playa that I frequent. My social life, such as it is, centres around the gym in the mornings and Melonares in the evenings. I have also met up for the occasional drink with a fellow motorhead who has a MGB in Norway and a Morgan (I've had to re-type that 3 times because it kept crashing my laptop!) in Canaria. Amazingly he has a very nice Norwegian partner, so he does have some taste.
I am currently in Burgos, Spain for the night and tomorrow will be heading up to Bilbao to catch a ferry home. Originally, today would have been the 3rd day after 'Brexit' (see it gets everywhere) and I didn't think it would be wise to be driving through France so early after the break. The gendarmes would be having a field day stopping all British registered cars and checking their papers, etc.
As I have posted so very little during my winter stay on Gran Canaria I thought I would at least add a couple more photos. My routine is to go walking in the central mountain range every Wednesday. This picture was taken at the end of a very pleasant walk through the Lambada Forest.
It is so rare for me to put the top down, usually because I only drive a few miles, that I thought I would include a photo of just that.
During my stay I was honoured to have a visit from my long time friend (mustn't say 'old') Caroline. Yes Gary, she was the 'Sheila' that featured last time I was over here. We drove up into the mountains to a very quaint little village called Santa Lucia. Whilst sitting outside a restaurant there, having lunch, I was distracted (only momentarily of course) by a car passing by. It disappeared before I had a chance to see what it was, other than being 1930's vintage. Luckily we saw it again later and managed to get a picture on my cellphone. However, I still couldn't decide what it was and the grill badge did not appear clearly in the photo. Perhaps someone can identify it for me, my guess is 1934 Chevrolet.
My chum with the Morgan, John Harrison, suggested 'out of the blue' one day that we should take some pictures of Bertie The 'B' outside of a restaurant called La Goleta. It is situated in Arguineguin, not far from Maspalomas where we stay. John is American and was therefore aware that Moss Motors headquarters are situated in the town of Goleta in the USA. They like to publish pictures on their website of any classic cars linked in some tenuous way with Goleta. So we went over there (to the restaurant, that is) and took a few shots which John has forwarded to Moss. The final photo of this post is one  example.
I guess that is it for today except to confirm that due to lack of a sponsor I will not be doing the second 'Round The World' run, that was to have included crossing the Himalayas. But, hey it's about time I retired and I am sure Bridget will be glad to hear it, too.