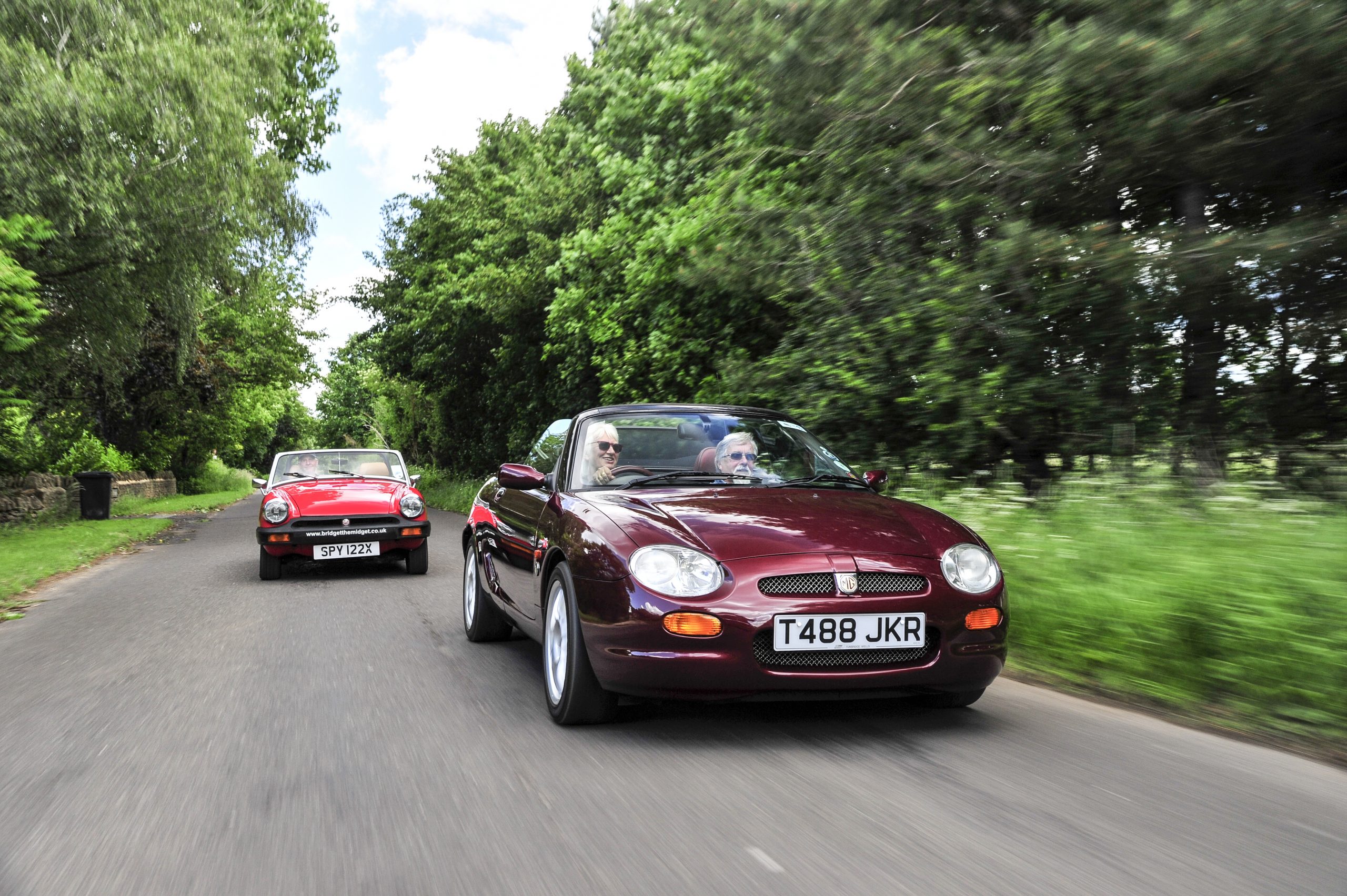 For many a classic enthusiast, buying a sports car with an octagon badge on its nose is the realisation of a dream. Throughout the 1950s and 1960s, cars leaving Abingdon were not only bound for UK showrooms but dealers in countries across the globe, such was their popularity owing to the fun they offered and the freedom they represented. And yet, while many aspired to own an MG, it was a dream that was far from out of reach; especially moving into the 1970s when the affordability offered by these cars was brought to the fore. The same is true today; MG remains one of the most popular brands in the UK thanks to the range of classics in its back catalogue, with the 1970s rubber-bumper Midget and 1990s MGF in particular providing phenomenal value for money. A budget of £5000 guarantees you'll be sitting behind the wheel of a fine of example of either of these B-road champions.
But picking the best is going to tricky. The MG Car Club's brought one of each to its headquarters, situated within striking distance of the old Abingdon factory, to help us find out. But there can be only one winner…
World Beater
The two MGs featured here – the Midget belongs to Roy Locock and the MGF to Carol Bradley – couldn't be more different in the lives they've lead. Roy's 40-year old car – perhaps better known as Bridget the Midget – is said to be the first MG to circumnavigate the globe and has visited no fewer than 52 different countries in his ownership. It's been almost a decade since he embarked on his 39,000-mile round-the-world journey in his baby MG, and he's since driven it to the Arctic Circle, Russia and South Africa.
Likewise, Carol's MGF is not your typical 18-year-old car, with just 49,000 miles recorded, though appearances suggest it's spent much less time than that on the road. It's proof that you can end up with something really rather smart if you're just that little bit more generous with your budget, should you set your heart on owning one. It's also a limited edition, one of a run of 500 home market (out of an overall total of 2000) cars produced in 1999 to mark the 75th anniversary of the MG marque. It's finished in Mulberry Red and wears 16in alloy wheels.
Unsurprisingly, they're very different to drive. We began in the Midget, a car that in period was criticised for its 'rubber bumpers' (required as a result of US safety regulations and which, aside from being divisive in styling terms, also raised the ride height). As a result, the handling isn't as predictable as its A-Series predecessors, but only in situations where you push hard. Lift-off oversteer is something to bear in mind while piloting a Midget 1500, but since this was someone else's cherished car we took a more cautious approach to cornering, which at worst highlights a degree of body roll that would be completely alien to an MGF driver. On the plus side, the ride is surprisingly good for a tiny sports car, even if (ashere) the suspension has been lowered from its factory tippy-toes.
MG Midget and MGF Interior

| | |
| --- | --- |
| | |
The cabin itself is best described as cosy (though we're sure there are others with far less complimentary descriptions) and the seats are far more comfortable and supportive than they might first appear. Pedals are tightly spaced, the gearstick falls nicely to hand and the smaller diameter steering wheel in Roy's car aids entering and exiting. However, the Midget's rack-and-pinion steering is easily one of its highlights, being both quick and accurate. Less than perfect surfaces highlight a tendency for the car to wander on occasions, something that the driver soon learns to keep in check by almost subconscious micro-corrections at the wheel.

Meet the Owner – Roy Locock 1977 Midget 1500
I was passing a little country garage and I just decided to go and have a look inside, whereupon I found my Midget. I wanted a sports car as a teenager and it was an impulse purchase. Having said that, it's probably fortuitous it was an MG, purely because of the runs I do. I find MG owners all over the world so you're never very far away from someone prepared to help if you need it. You don't have problems in getting spares, either.
The round the world challenge followed a European trip. I headed to the South of France and from there I went around Spain, then followed the Italian coastline. It took four months and I thought 'this is nice', so I decided to do something even more ambitious.
I couldn't understand why people thought you couldn't take these cars around the world, purely on the basis that if you can take it 50 miles on a Sunday afternoon, then around the world is just a series of 50 miles one after the other. So I just decided to go for it – that was back in 2008 and yes, I did make it all the way around!
Meet the Owner – Carol Bradley 1999 MGF 75 LE
I owned a chrome bumper MGB roadster in the early Seventies, but wasn't drawn to owning an MG in the same way others are. My car previously belonged to Colin Grant of the MG Car Club; when he drove to visit me and my partner Stuart, I said that I loved his car and that if at any time he was thinking of selling it for him to please give me first refusal. He told me quite plainly that it wasn't for sale. Shortly after that, Stuart gifted it to me as a 60th birthday present!
The Mulberry Red paintwork of this particular special edition was very much the draw. It's not my everyday car, so I class it as my 'fun car' which I use for social events, such as MGs in the Park and the recent Old Specked Hen Run. My husband and I try to get as involved with the MGCC's Abingdon branch and take part in as many events as we can now that we're both retired.
In my old MGB, when you sat in it you felt like you were sitting on the ground with your legs stretched out. In the MGF, it's in between a sports car and a saloon in terms of its driving position, so you're comfier in the seat.
MGF

Check for rot in the sills, edges of the side air intakes, door bottoms and – underneath the car – the condition of the subframes and front and rear suspension mounting points.
Cooling was marginal in the MGF, leading to many K-Series engines blowing their cylinder head gaskets. Ask whether a multilayer steel item has replaced the original and check all the associated hoses and pipework.
The MGF's Hydragas suspension comprises a liquid and nitrogen filled displacer in each corner. These can be regassed but not refilled, and because replacements aren't currently available, so you'll be relying on secondhand items.

Price watch

Concours £6000

Excellent £2750

Usable £1500

Project £500

MG MIDGET 1500

Check panel fit, and particularly the door gaps, as any tapering here may suggest that the bodyshell has distorted. Check each B-pillar for corrosion around the lower door hinge, too.
Beware cracks and flaking paintwork around the rear spring hanger and check the rear springs for sagging and cracked leaves. Rusty floors can also be an issue and glued-in carpets may be trying to hide corrosion.
Unlike earlier A-series Midgets, the engine the 1500's Triumph engine has a reputation for bearing wear. Crankshaft thrust washers also wear – get a friend to depress the clutch and watch for crankshaft pulley movement.

Price watch

Concours £7500

Excellent £4000

Usable £2750

Project £1250
| | |
| --- | --- |
|   |   |
1977 MG MIDGET 1500 

ENGINE

1493cc/4-cyc/OHV

POWER

65bhp@5500rpm

TORQUE

76lb ft@3000rpm

MAX SPEED

97mph

0-60MPH

11.9sec

FUEL CONSUMPTION

25-32mpg

TRANSMISSION

RWD, four-speed manual

1999 MGF 75 LE

ENGINE 1796cc/4-cyl/DOHC

POWER 118bhp@5500rpm

TORQUE 122lb ft@3000rpm

MAX SPEED 120mph 0-60mph 8.5sec

FUEL CONSUMPTION 32-36mpg

TRANSMISSION RWD, five-speed manual
CHRIS HOPE, Features Editor

Picking one car over the other is tough as it's an entirely subjective choice, not so much in terms of having a preference but because what you actually intend to use your MG sports car for will heavily inform which is best. Although Roy was able to drive his Midget around the world, there's no denying that Carol's MGF is the more practical proposition. Likewise, the Midget's engaging and far more direct driving characteristics come with certain caveats, notably a firm ride and a more sporting driving position. Purely in terms of it being the most fun to drive though, I'm siding with the Midget.

MIKE LE CAPLAIN, Production Editor

Do I take the Midget 1500 out for a blast on a sunny Sunday morning, or the MGF? It's a dilemma I've faced many times, over the years, because I own examples of both. If I fancy giving it the full moo on a corking road, then the 'F is the one to take – it goes like the clappers, sounds fantastic and grips like you wouldn't believe, yet it's also refined on long journeys. The Midget is just as much fun to drive in its own way, though, and its tiny dimensions and low driving position turn every journey into an adventure. The fact that it's more demanding to drive than the 'F ramps up the fun-factor for me, too. I love my MGF to bits, but for plain old fashioned driving pleasure, The Midget's the one for me.