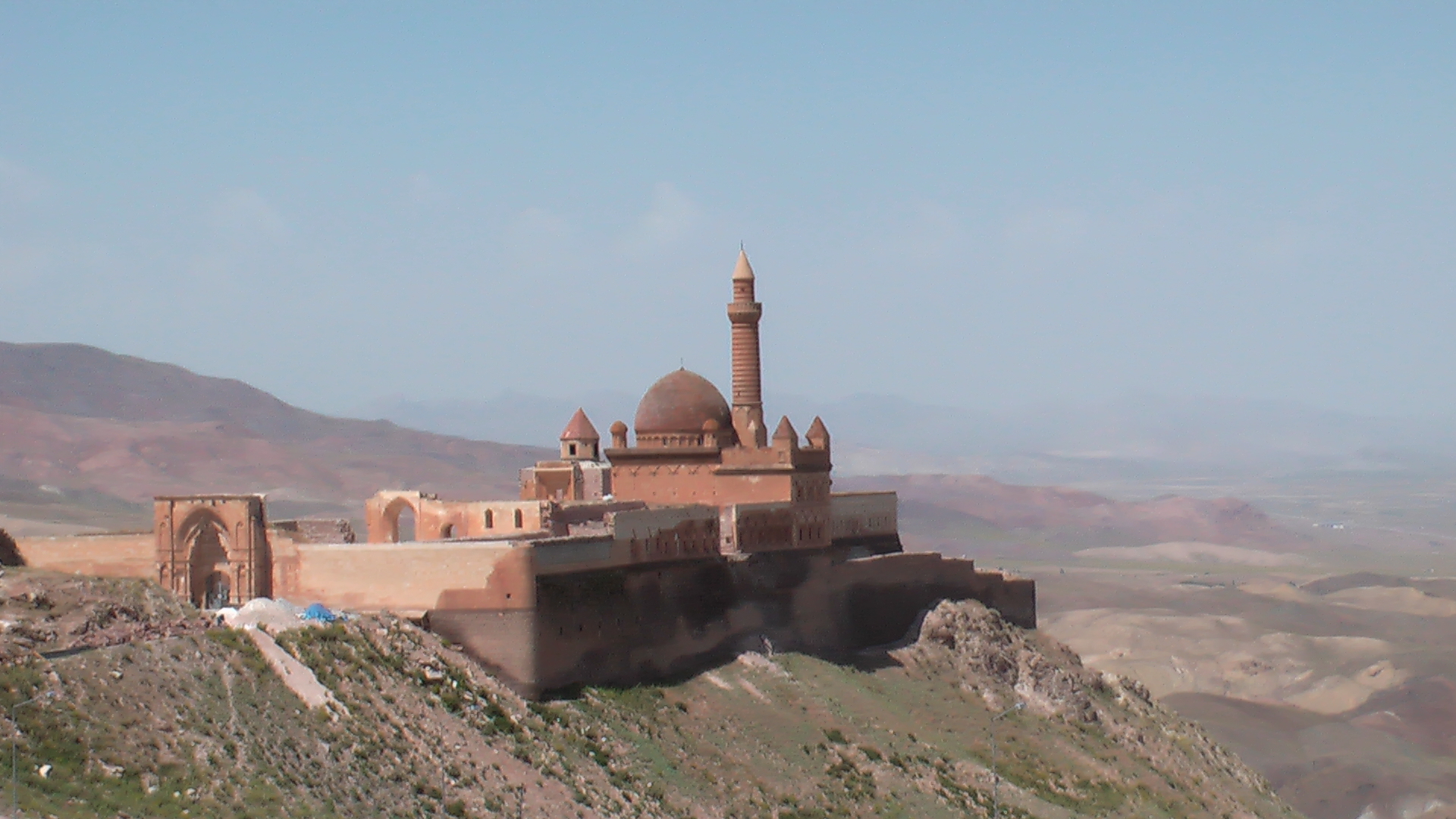 Well after five days Ordu was finally put behind us. We took the coast road to Trabzon, a distance of no more than 120 miles. The scenery was pleasant but not spectacular, much the same as many other coast roads in European countries such a s Spain or Italy. The traffic was its usual horn tooting, waving, jostling self and the day was shaping up to be a generally relaxed affair. Arriving on the outskirts of Trabzon around 11:00am I noticed one particular vehicle that had been trailing me for a little distance moved up on the outside of Bridget. I looked over and the driver made it clear that he would like to stop and chat.
Being as I had plenty of time on hand and we were on the edge of town I thought 'why not', so I let him overtake and a couple of hundred metres up the road we stopped. He jumped out of his vehicle and started back towards me, checked, went back to his vehicle and got something from the passenger side and again started towards me. He was carrying a small can, similar in size and shape to a sixteen pint party can of lager. He smiled and proffered it to me at the same time clearly speaking about Bridget. I could make out 'welcome and beautiful' amongst other words and it became obvious that it was a re-run of the chap in Bulgaria that gave me the biscuits. This time the can contained olives to which I am particularly partial. It was a wonderful gesture that made me feel quite touched. I just can't imagine anyone in the UK ever doing that for a stranger to the country no matter what they were driving.
It is always a challenge on arriving at a new destination to find accommodation and Trabzon was no different. It is true you often see parts of the city that you might not otherwise see, but that's not always a good thing. With Trabzon I eventually gave up and stopped a passing pedestrian and made it clear that I was hopelessly lost. He studied my map for a few moments and gave me directions in broken English and gestures. I had to take a right turn, followed by another then at the square I had to go left. I set off, but after the second righthand turn It didn't look right for some reason so I pulled over to look at the map again. Then the man that had given me directions suddenly appeared at the window. He realised that the first turn I took was the wrong one and figured out where I would end up, so had dashed through some pedestrian shortcuts to re-emerge just as I stopped. Again it demonstrated the helpfulness of the people in Turkey.
I had arranged for a package, containing specially created postcards of Bridget and a crucial cable that I required for the camcorder, to be sent via UPS to the hotel. It was due to arrive on Friday but it so happened that the same day I was intending to visit the Sümela monastery a short distance away. I got the hotel to check when the package would be delivered thinking I would arrange my visit so as not to clash with the delivery. We had promised UPS a photo shoot of the delivery. By good luck and excellent service the package was in fact a day early and would be delivered just 2 hours after my arrival. The photo shoot turned into a rugby scrum as many of the locals thought that they could get in on it and good humoured chaos reigned.
Now it is Saturday 19th July and we have made our way, only just, to Erzurum on route to the Iranian border. I will upload this report and some more photo's tonight because the last stop in Turkey will be Dogubayazit and I don't believe the hotel has Wi-Fi internet available. The journey today was, at times, spectacular and at others very pleasant. The scenery, particularly in the mountain ranges is absolutely beautiful. I was very proud of the way in which Bridget took it all in her stride and at times the climbs were very severe. I should have realised of course that 'pride comes before a fall' and sure enough when we reached the town centre the engine was sounding pretty rough. She stalled several times and when just 300 metres short of the hotel Bridget all but gave up. I thought for a moment that I would have to walk those last few metres but the engine just made it. Certainly the approach was quite steep by it shouldn't have been a problem. I spent a couple of hours checking plugs, liquid levels and adjusting the points. She is starting up alright so I will have to see how things go tomorrow. Fortunately we only have about 180 miles to travel.
I have managed, again, to get my face burnt by the sun. I had the roof down but it was cloudy for the first part of the journey. However once we cleared the peak of the mountain range the sun came out and I donned my bandana to save the top of my head from frying. It did not feel particularly strong but it must have been. I am wondering if the Americans will detect a new source of radiation in Iran on Tuesday and start another diplomatic incident!
I know that the hotels in Iran do not have internet, because I have been trying to book some and can't. I am beginning to suspect that the web is a forbidden facility in which case I am afraid you will not hear from me directly for around three weeks. I will do my best to keep Mission Control in the picture and I am sure they will post titbits when they get them.