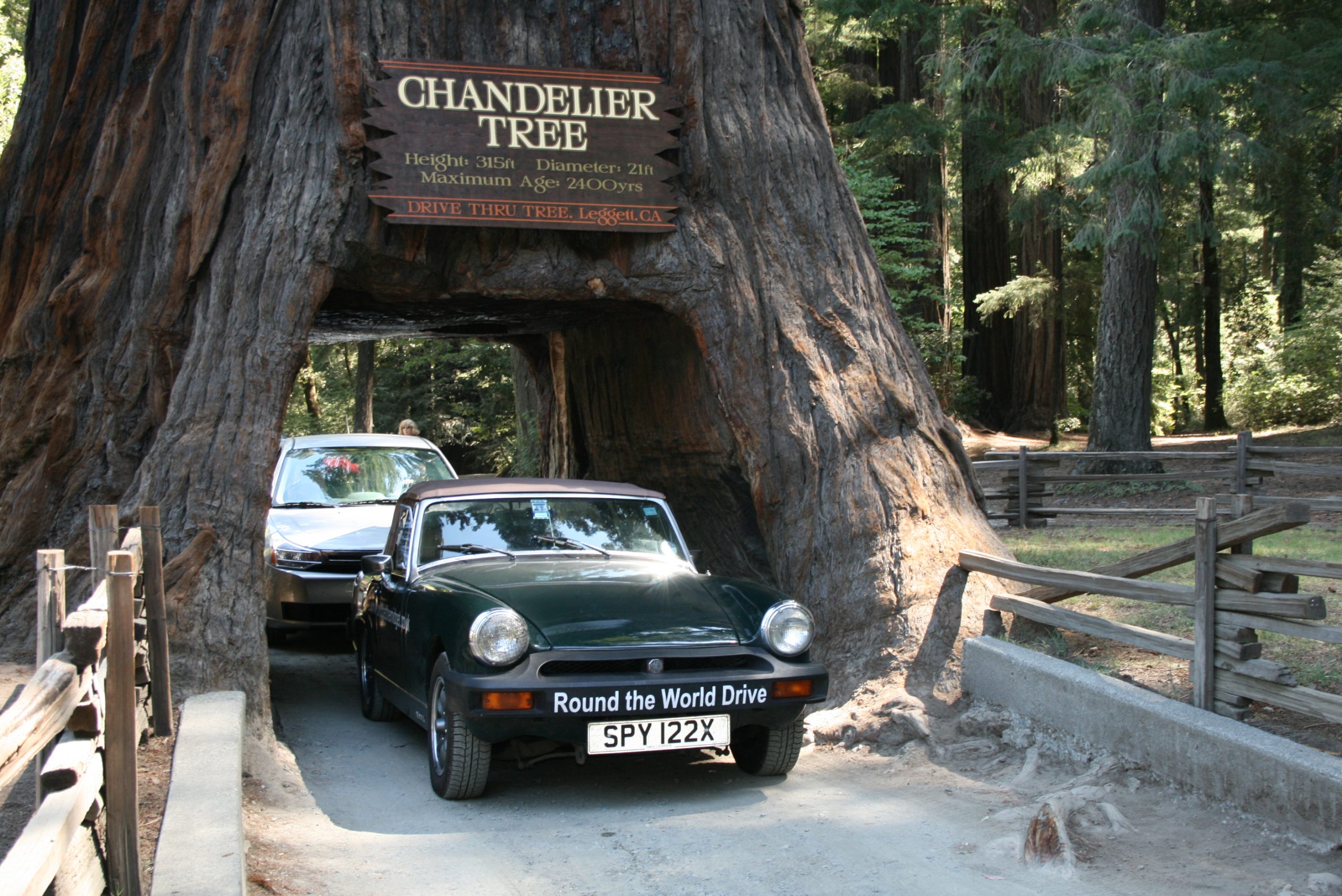 I chose to drive north from San Francisco on highway US101 rather than the quicker route I-5 after several people told me that the coastal road was really pretty. I left immediately after an early breakfast; the weather was sunny but the temperature only just over 70ºF. Being a Sunday the traffic was light.
A forty mile stretch of the US101 between Garberville and Pepperwood is called Redwood Highway or the Avenue of the Giants, referring to the giant redwood trees that are reputedly the largest in the world. I drove Bridget through the Chandelier tree which is one of four that has had a small roadway bored through the trunk. Not surprisingly they are big tourist spots but fortunately the conservationists have ensured that no more suffer this fate in the future.
The drive as far as the town of Fortuna, eight miles north of the worlds largest timber saw mill, was picturesque and I decided to stop here for the day as I have plenty of time to get to the Canadian border and I want to experience some of 'small town' America.
The next morning was decidedly chilly but sunny. We rejoined the US101 north. We could either drive all day making Portland by early evening or take it easy and make it another two days to Portland. Not being pressed for time the later was most likely and as the day progressed I decided to slow things down a little and enjoy the scenery.
The road was still flanked by Redwood firs and then it met with the Pacific. Rollers rushing up the beach and a multitude of rocky outcrops from 20yards to a mile from shore. Sometimes we were at sea level with warning signs telling us we were in tsunami danger areas and others the road was several hundred feet above the beaches.
We crossed the state line from California into Oregon.
Driving through the Samuel H Boardman State Park I saw a lay-by and pulled in. There was a trail signposted 'To the Bridge View'. I followed the trail and found that the road I was travelling on was about to pass over a bridge several hundred feet high although when on the highway it was impossible to see the structure. I managed to snap a shot of the bridge but decided to continue walking and with some physical agility found a ledge that looked back across the bay and beach of the park. This was many times more beautiful than the bridge.
We stopped for the day at Coos Bay, a small coastal town.
The last day on Route 101 was again scenic, warm and varied. The traffic was a little heavier than we been accustomed to recently but it was only noticeable because there were several stretches of single carriageway where overtaking was not possible. Bridget was fine although still suffering some misfiring.
Once again I took a gentle stroll amongst some of the Redwoods and found a pleasant spot overlooking Tankenitch Lake. It was beautiful, peaceful and felt remote although not far off the highway. We arrived in Portland shortly after lunch. I have not been here since 1980, just before Mount St. Helens erupted and tore half the mountain away, and my memories of it were not particularly pleasant. However is has undergone considerable re-generation and is now a vibrant pleasant place to be. Moreover, although it has more car parks than you could wave a big stick at, it is a city where people actually walk. I thoroughly enjoyed it.
Tomorrow will be my last day in the USA. We will drive up to Seattle ready to cross into Canada on Thursday. I have changed my mind about returning to Chicago to ship back to the UK and instead will drive to Toronto and return from there. My apologies to those in Chicago that were hoping we would be there.
Our last night in the US was in fact spent at Everett just north of Seattle. The two hundred mile drive was easy and Bridget ran well with little misfiring. From here we will go to Vancouver where the local MG club is organising something and then I have a five day route across the Rockies planned out before going on to Calgary. Canada should be a lot of fun.
Postscript: It's never over till the fat lady sings. Bridget's fuel pump has failed and it proved difficult to change because of my location. I managed to persuade a company to let me use their hoist to get at the pump but we couldn't do the job that evening. It resulted in having to spend Thursday in Everett to complete the job, but at least I now know the cause of her misfiring, fuel starvation.